How Safe Is The Air Quality In Your Home
How Safe Is the Air in Your Home?
It's not enough for the air inside of your home to be cool and comfortable. Above all, you need the air inside of your home to be clean and safe. While we tend to think the air outside is far more polluted than the air indoors, the harsh reality is that the air inside of your home could be causing you more harm than the air outdoors. In fact, according to the Environmental Protection Agency, studies have found that the air inside of the average home is fives times more polluted than the air outdoors.Let's face it – if you're not doing anything to ensure your home's indoor air quality (IAQ) is high, you're putting you and your loved ones at risk. That's why Energy Air is dedicated to providing home comfort systems that not only make your home comfortable, but safe too.
Why Indoor Air Quality Is Important
Many of us don't think twice about the air we breathe, but the quality of the air we're exposed to is crucial for us to remain healthy. In fact, the EPA has found that poor indoor air quality is a leading environmental risk against humans! It's no surprise when you consider the amount of harmful pollutants, like dander, dirt, dust, mold and smoke, that can make their way into our homes. Unfortunately, exposure to these indoor air pollutants can have serious consequences on your health and can even cause long-term side effects like cancer and respiratory illnesses.
⦁ Sinus problems
Shortness of breath

Sore throat
⦁ Scratchy, watery eyes
Air pollution isn't limited to the outdoors. Moisture, odors, gases, dust and a host of other irritants can affect air quality indoors, too. Try these tactics to help freshen your home's air so you and your family can breathe easy.

⦁ Open windows. Most heating and cooling systems recirculate inside air. When weather permits, give your system a break and let fresh air in. Open windows and place fans strategically to help direct fresh air through.
⦁ Use exhaust fans. Turn on the kitchen fan to vent cooking pollutants, and the bathroom fan to curb mold-promoting wetness and cleaning-product fumes. Leave it running for about 45 minutes.
⦁ Do doormats. They help prevent dirt and other outdoor pollutants from making it inside. Get two natural-fiber mats, one for inside and the other for outside your main entrance. Keep a shoe-free home, too.
⦁ Test for radon. The naturally occurring gas is colorless and odorless. It's also the second-leading cause of lung cancer, after smoking. DIY test kits, available online and at your local home improvement store, are inexpensive and easy to use.
⦁ Don't mask odors. Scented candles and sprays can irritate lungs, too. Find the source of the smell, get rid of it, then ventilate well until it's gone.
⦁ Use a dehumidifier. Stay under 50 percent humidity to keep mold growth at bay. Clean your dehumidifier regularly, too, so it doesn't switch from humidity-reducing friend to mold-harboring foe.
⦁ Vacuum regularly. You'll reduce the amount dust and other pollutants released when you walk around. Invest in a quality vacuum with a HEPA (high-efficiency particulate air) filter, especially good at trapping even tiny bits of dust and dirt.
⦁ Take it outside. Painting, sanding, gluing — anything that generates particles, gases or other pollutants. If outside isn't an option, open a nearby window and add a fan blowing air out. Clean up after your project quickly and well.
⦁ Monitor your air quality. Devices can monitor temperature and humidity to help you understand how your home might affect your health.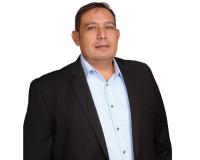 My name is Manny Quiros, I'm a real estate professional in the "Disney Area", I have lived in this area since 1999 and have called this area my home and place my wife and I to raise our three wo....