How To Maintain A Salt Water Pool Sep 26 2018 63205 1
How To Maintain a Salt Water Pool
lWeekly, test the pool water for Free Chlorine and pH.
Bi-weekly, test the pool water for Salt, Alkalinity, Stabilizer, and Calcium.
To maintain maximum performance, it is recommended that you open and visually inspect the cell every bi-weekly.
Keep the filter, pump, and skimmer clean.
What chemicals do you need for a saltwater pool?
Your pool pH, Alkalinity and Calcium Hardness must be maintained by testing and adjusting the levels as needed, just as with a traditional chlorine pool.
You will also still need to use cyanuric acid, or chlorine stabilizer, to control UV chlorine degradation, and prevent overworking your salt cell.
Do you shock a salt water pool?
Just like any other chlorine pool, shocking a saltwater pool is no different. ... If using granular pool shock (Cal Hypo), use 3 lbs per 10000 gallons, for a complete shock that will kill anything in the pool. If using 6% liquid chlorine bleach, add 5 gallons per 10000 gallons.
What are the benefits of a salt water pool?
Advantages
Because they have lower chlorine levels, salt water pools are much gentler on the eyes and skin.Research indicates that salt water systems may be safer than chlorine pools, which force owners to store and handle unsafe chemicals. Salt water pools also produce softer-feeling water, which many find desirable.
Disadvantages
Unfortunately, salt water pools require a larger initial investment, making them more expensive than traditional pools.Because they're more complex, salt water pools often require experienced technicians even for minor problems.Since salt can cause damage to certain materials, you may have to avoid using specific types of heaters, fixtures, underwater lighting, liners and even some types of masonry work.
No matter what your decision turns out to be enjoy you pool!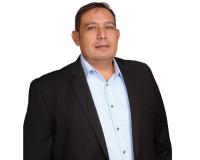 My name is Manny Quiros, I'm a real estate professional in the "Disney Area", I have lived in this area since 1999 and have called this area my home and place my wife and I to raise our three wo....