What Is An FHA Loan And How Do You Qualify
If you are interested in FREE information on homes that are currently on the market and ready to be purchased please visit my website at https://buff.ly/2SanvW4 or email me at gina@ithinkrealty.com
An FHA loan is a home loan that the U.S. Federal Housing Administration (FHA) guarantees. Private lenders like banks and credit unions issue the loans, and the FHA provides backing: If you don't repay your loan, the FHA will pay the lender instead.
Because of that guarantee, lenders are willing to make substantial mortgage loans in cases when they'd otherwise be unwilling to approve loan applications.
Created in 1934 during the Great Depression, the FHA is a government agency that provides mortgage insurance to lenders. Before the FHA came into being, housing markets were struggling. Only four in ten households owned homes, and loans were a burden for buyers. For example, borrowers could only finance roughly half of a home's purchase price (as opposed to putting 3.5 percent down), and loans typically required a balloon payment after three to five years.
When compared to conventional loans, FHA loans are typically easier to qualify for.
Check with several lenders: Lenders can (and do) set standards that are stricter than minimum FHA requirements. If you're having trouble with one FHA-approved lender, you might have better luck with a different one. It's always wise to shop around.
Income limits:
No minimum income is required. You just need enough income to demonstrate that you can repay the loan (see below), but FHA loans are geared toward lower-income borrowers. If you have a high income, you aren't disqualified, as you might be with certain first-time home buyer programs.
Debt to income ratios:
To qualify for an FHA loan, you need reasonable debt-to-income ratios. The amount you spend on monthly loan payments should be relatively low, compared to your monthly income. Typically, it's best to be lower than 31/43. But in some cases, it's possible to get approved with D/I ratios closer to 50 percent.
Example: Assume you earn $3,500 per month.
To meet standard requirements, it is best to keep your monthly housing payments below $1,225 (because $1,225 is 31 percent of $3,500).
If you have other debts (such as credit card debt), all of your monthly payments combined should be less than $1,505.
Always remember to educate yourself when making the most important decision of your life.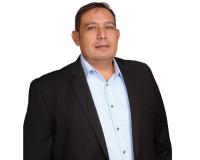 My name is Manny Quiros, I'm a real estate professional in the "Disney Area", I have lived in this area since 1999 and have called this area my home and place my wife and I to raise our three wo....